1:12 am
[kiliki517]

"can i have some water?... w/ lemon? oh yeah i want some tea too!"
water w/ lemon is the best!!!
yay i finally figured this thing out... yay i'm team member
#1
(even though i will be leaving)
yay fun stuff... ok nothing else to say except for we will be hopefully making our team lemon t-shirts to wear to the yellow sub. dance at nationals.
as member
#4
chelsea newnam says "when life gives u lemons, squirt them in people's eyes"... i think that was chelsea... anyways it was some member of team lemon...
Current Mood:
curious
11:17 pm
[walnut_kyan]

First Draft of Rules List
Team Lemon and Team Rootbeer Official Rules as of June, 2005:
1. A member of either team is a member for life and may not switch teams once proclaimed as a member of said team.
2. There must be Four and only Four active members of each team currently attending school at Hickory.
3. Those team members who are graduated shall remain members of their respective teams as Alumni, but are not considered a part of the active four.
4. Upon the graduation of a team member, each team must pick a new member to replace this departing member.
5. Team spirit is encouraged above all else, but things must be kept clean and at least sociable.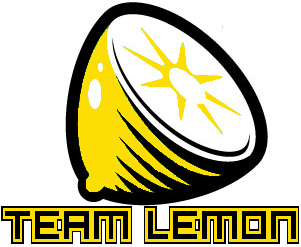 10:21 pm
[walnut_kyan]

Casey, Team Lemon's co-captain, and member
#2
, with the help and pretty much complete skill of Megan, Team Lemon member
#5
, has written his name in the giant book of nerds for both speaking in third person and having started an LJ community for Team Lemon. Oh great, like I needed something else to make me even dorkier...
TEAM LEMON!
Current Mood:
Sour, in the good way